If you book or buy something from our website, by using one of our affiliate links, we receive a small commission. However, you will not incur any additional costs. Thank you for supporting our Travel blog.
I have spent countless holidays in Monaco over the last 30 years and know my way around quite well. Of course, I didn`t want to deprive my travel buddy Bernie of this special place, so we stopped off for a few nights in the world of millionaires.
Monaco, the tiny principality on the Côte d'Azur, is famous for its casino, the princely family, the Formula 1 Grand Prix, luxury yachts and much more. It is only 2 square kilometres in size, making it the second smallest state after the Vatican. This is where the rich and beautiful meet, and Monaco is the epitome of luxury for many. Get a taste of the sophisticated atmosphere during a visit and marvel at the yachts, sports cars and designer shops that can rarely be admired in such density. But Monaco has much more to offer.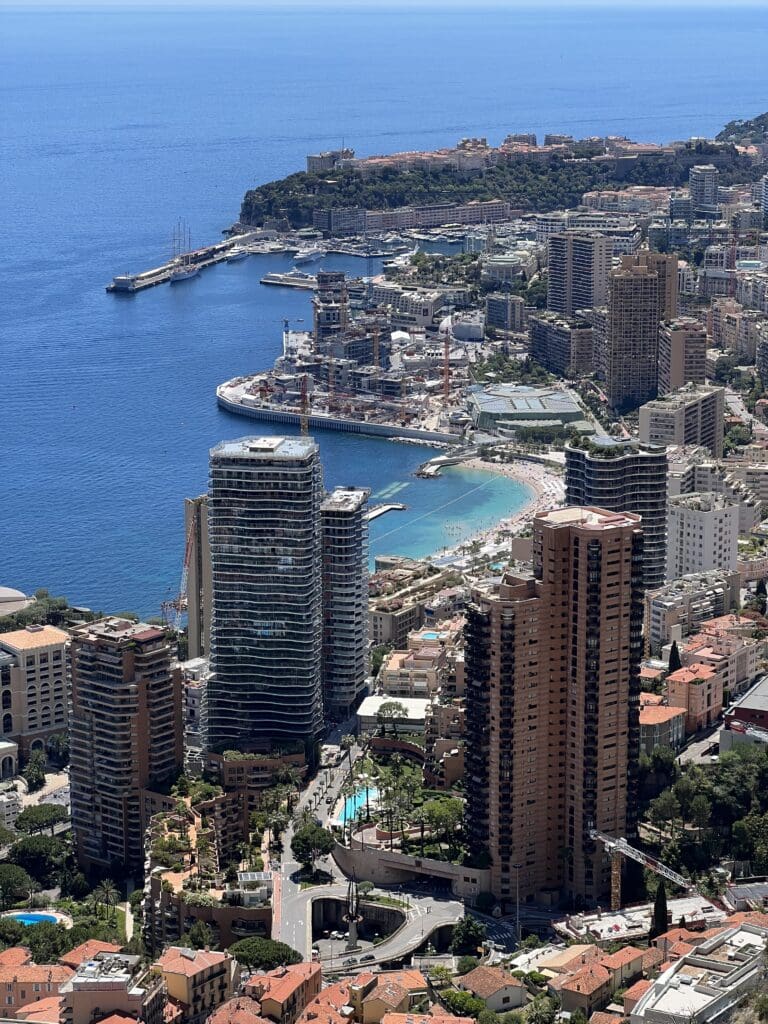 Monaco was founded in 1215. In 1297, the Grimaldi family took over the rule and has maintained it with a few interruptions until today. In 1861, the state became utterly sovereign, and after having earned its income from ship customs duties, the newly opened casino became the primary source of income in 1863. By 1869, profits were so high that direct taxes were abolished. The first luxury hotels were also built at this time. The marriage between Prince Rainier and the actress Grace Kelly in 1956 brought Monaco another economic boom, which continues to this day.
Monaco is located on the Côte d'Azur, just over the French-Italian border between Menton and Nice. 
The nice airport is about 30 km away. There are several ways to get to Monaco from there. It takes about 30 minutes to get to the Principality by car, but by train or bus, it is not much longer than an hour. If you have enough money, you can take a helicopter.
By car
It is no problem to drive to Monaco. The city has almost 40 car parks, nearly all of which cost 7 euros for two hours, although the first hour is free.
Parking
I recommend the "Chemin des Pecheurs" car park to visit the old town on Prince's Rock. It is located below the Oceanographic Museum. Lifts and escalators take you up to the top of the rock. But before that, you should take a photo of the Oceanographic Museum building at the car park exit.
If you want to visit the area around the casino, it is best to park in the "Casino" car park. It is located directly opposite the casino and offers enough space even for large cars.
For a visit to the beach, the "Parking du Larvotto" is ideal. The exit is directly on the beach, so you don't have to carry beach utensils and parasols far.
By taxi or Uber
Of course, you can also use a taxi or an Uber to get to Monaco. A taxi is around 100 euros; an Uber is cheaper.
By train
The train station is located in the centre of Monaco. From here, almost all sights can be reached on foot. Alternatively, you can explore the city by public bus or join a tourist bus tour. There is a train from Nice to Menton every half hour. The ticket costs 4.20 euros and the train leaves every half hour.
By bus
From Nice Airport Terminal 2, the Nice Airport Express (line 110) departs every hour toward Menton and stops in Monaco at the Bay Hotel after about 50 minutes. The one-way fare here costs 22 euros.
By scooter
Another option for a day trip is to rent a scooter, which you can rent in Nice, for example. This is the easiest way to explore Monaco, and the route from Nice along the coast to the Principality offers wonderful viewpoints where you can easily stop with the scooter.
By helicopter
Monacair will take you from Nice airport to Monaco in a helicopter in 7 minutes. This costs 250 euros, and chauffeur service within Monaco is also included.
Places of interest in Monaco
There is an infinite amount to see in Monaco, even though it is only about 2 square kilometres. You can reach all the sights on foot, enjoying the city's flair and looking over the shoulders of high society while shopping or painting. It would be too long to list all the sights here, so here is just a list of the main attractions. Click here to read our article with more detailed descriptions of the sights.
The Casino
The Casino is probably the first stop for most tourists.
The Palace of the Princes
The palace can be visited, and the changing of the guard takes place at 11.55 am.
The Old Town
In the old town's narrow streets, you will find small restaurants and souvenir shops.
The Oceanographic Museum
It is one of the world's best exhibitions of its kind.
You can find more attractions in our article …..
Of course, it is not cheap in Monaco, and you should always look at the menu before placing an order.  There are endless restaurants of all price ranges in the Principality (including a McDonald's). We want to introduce you to two restaurants here:
If you want to enjoy your dinner in a small romantic square in the old town of Monaco, this is the right place for you. We were treated very courteously here, and the food was also delicious. After a few problematic years, the restaurant is on the way to returning to its former glory when celebrities came here to dine. 
Pulcinella
Pulcinella is located at the other end of Monaco in a side street of the Boulevard du Larvotto. This restaurant has been around for over 40 years, and I was a guest there for the first time over 30 years ago. It has hardly changed over the years and still offers good quality at a fair price. This restaurant is also very popular with the locals as it is away from the hustle and bustle and the tourist attractions.
Hotels are not cheap in Monaco either, although, outside the high season, you can find hotels or holiday flats that are not overpriced, especially if you book some time in advance. If you don't necessarily want to stay in Monaco, you should look at Cap d'Ail. Here you can find holiday flats and hotels at lower prices, and you are in the centre of Monaco in 5 minutes by car.
We stayed at the Hotel Normandy in Cap D'Ail during our last holiday. It is an older, small hotel with stylishly furnished rooms. Our room was not very big, but the view of the sea from our small balcony was fantastic. The staff were amiable and helpful. From here you can walk to the beach "Mala".
Mobile phone roaming in Monaco
Since 1 May 2016, Monaco Telecom has also been operating a mobile network in its home principality.
Beware of the cost trap:
As Monaco is not part of the EU, not every provider has a roaming agreement with Monaco, so considerable costs can arise. Check the conditions in your tariff.
Tip:
Try to dial into one of the French networks manually.
Make detours into side streets as well.

Theoretically, everything is within walking distance, but if you have a lot you want to see, use the bus connections within the Principality.
Èze (10km)
Nizza (30km)
Menton (10km)
Cap-Ferrat (14km)
Mala Beach, Cap d'Ail (5km)
Best time to visit Monaco
Monaco ist zu jeder Jahreszeit ein ideales Reiseziel. Man sollte jedoch, soweit möglich, die Monate Juli und August meiden, da die Côte d' Azur zu dieser Zeit sehr überlaufen ist.