What is Cape Town known for?
Cape Town is a modern, cosmopolitan city known for its creativity, award-winning wine, delectable food, colourful people, and sheer variety of experiences.  It is surrounded by exquisite nature, mountains, and two oceans with beautiful beaches.  
Moreover, its larger-than-life Table Mountain is one of the seven wonders of the modern world.  Robben Island continues to capture the world's attention for South Africa's reconciliation efforts.  
Two of South Africa's eight World Heritage sites are in the Western Cape, Robben Island (click here to book your trip to Robben Island), and the Cape Floral Kingdom.
What makes Cape Town different from any other city in South Africa?
Cape Town has many fun and exciting activities that cannot be covered in one article.  Please subscribe NOW to our blog, so you don't miss any of our articles!
It has a rich culture and heritage, making the city an unforgettable place to visit.  
The city's leisure-loving lifestyle and mountainous backdrop create an atmosphere for visitors to enjoy outdoor and indoor experiences in extraordinary settings.
From hiking at Table Mountain and Lions Head to paragliding over Sea Point, encountering penguins at Boulders Beach and kayaking along the Atlantic Seaboard and so much more.
The best Beaches in Cape Town
Cape Town not only has world-class hotels and restaurants, but it can also compete with the best beaches in the world, having eight Blue Flag beaches from Clifton (4th beach), Camps Bay, Fish Hoek, Llandudno, Melkbosstrand, on the Atlantic Ocean side to Muizenberg, Strandfontein and Mnandi beach on the Indian Ocean side.
Must visit spots in Cape Town
It offers unique hiking opportunities at Kirstenbosch National Botanical Garden (renowned for its beauty and diversity – Click here to read our article about the magnificent gardens), Table Mountain and Lion's Head.
Did you know that you can spend the night on Table Mountain?  (visit the SANParks website for more info – Hoerikwaggo Tented Camps)
A visit to Cape Town is not complete without a sightseeing trip around the coastline with Chapman's Peak Drive, a relaxing afternoon shopping and exploring the V&A Waterfront, including Zeitz MOCCA contemporary art museum (Click here to read more about the museum in another article); a leisurely drive to Simon's Town to visit the breeding colony of African Penguins on Boulders Beach.  
And if you still have time left, don't forget to stop for an unforgettable high-tea experience at The Cellars-Hohenort (click here to read about this fabulous hotel in Constantia).
For those who planned a two-week trip (highly recommended), make the time to visit Babylonstoren wine farm, The Old Biscuit Mill (click here to read more in another article), Oranjezicht Farm Market (operating on weekends near the V&A waterfront – more about this market on our Instagram page), the town of Franshoek, and our favourite wine farm, Boschendal for its night markets (more about this on our Instagram page).
Does Cape Town have the best sunset spots?
Cape Town is known for some seriously beautiful sunset spots and is regularly listed as one of the best cities in the world to enjoy the best sunsets.  
We can truly confirm this, having visited some of the best sunset spots often mentioned, like Santorini, The Matterhorn, Venice, UAE, and the Swiss Alps.
Cape Town is known for its sherbet-coloured sunsets that set the sky alight.  For many, going on the ultimate sunset chasing has become the ultimate experience in Cape Town.
Besides having countless spots to watch the sunset, you can choose between a sunset framed by sweeping mountains or incredible ocean views.   
Here is our list of our 'best things' in Cape Town:
Best sunset spots in Cape Town
Signal Hill is one of the peaks that stand out from the mountains around Cape Town. This is arguably the most amazing spot all year round.  Having an elevated spot in the Table Mountain National Park offers stunning views over the Atlantic Seaboard, the Ocean and Greenpoint stadium.
The strip, Camps' Bay: This strip is nestled below the majestic Twelve Apostles mountain range.  This palm-lined lane has a variety of beach bars, restaurants and cafés with magnificent ocean views.  This is a fabulous spot to watch the sunset over the beach.  Here you can rub shoulders with celebrations at the very popular Café Caprice, Mezepoli (serving Mediterranean, Middle Eastern and Asian meze dishes) and, of course, our favourite, Tiger's Milk.
Glen Beach is a sheltered bay between the popular Camps Bay and Clifton beach.  It has a snow-white sandy beach with massive granite boulders, and this beach is within walking distance of trendy restaurants and cocktail bars.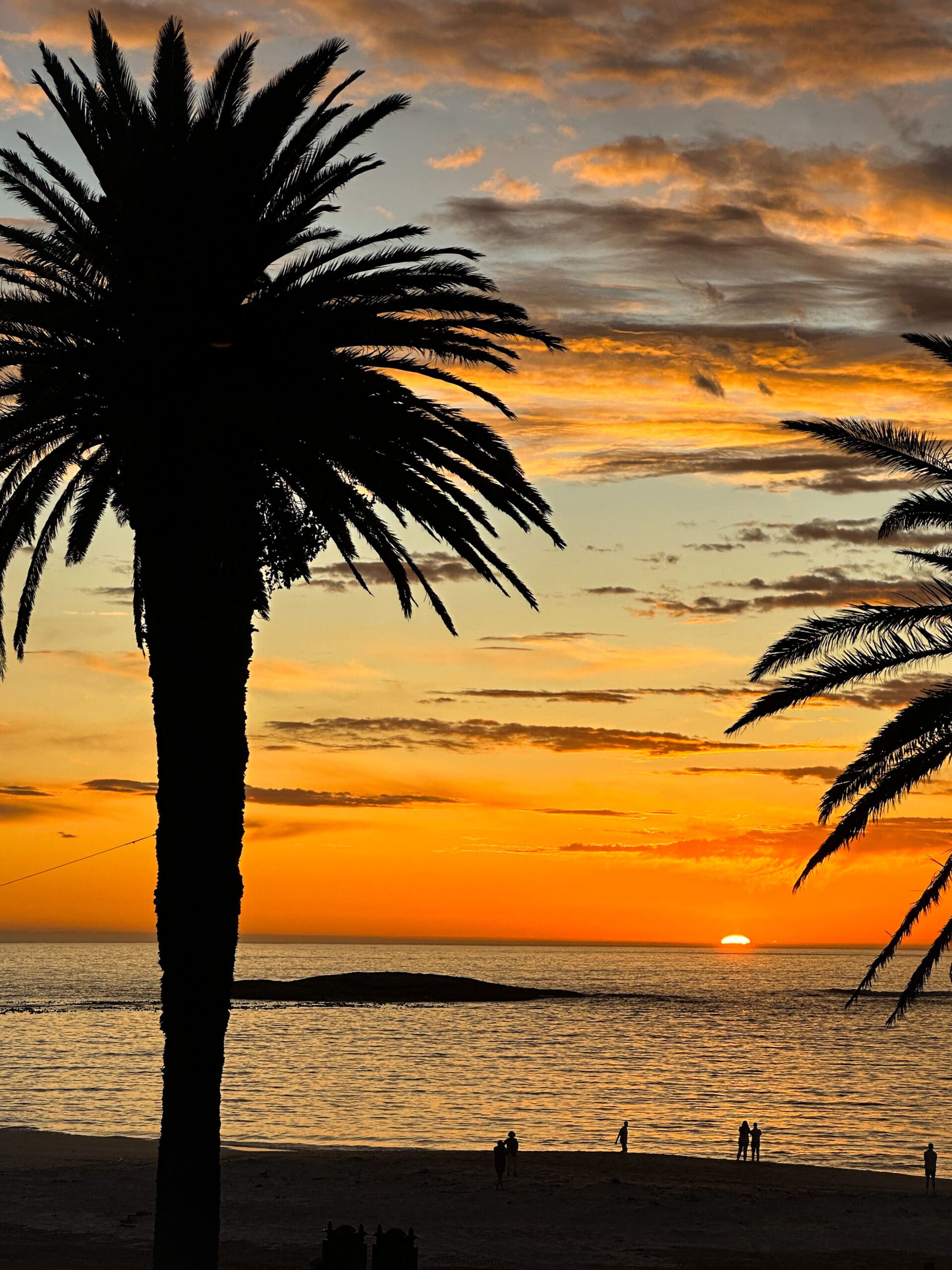 Cape Town is known for its trendy restaurants, cafés, and rooftop bars with magnificent views due to its many high-rise buildings.  Many of these hotpots are perfectly located to offer great sunset views while enjoying a perfectly mixed cocktail or ice-cold beer.
The Nines, Station House, Sea Point
The Nines at Station House is located on the ninth floor of the newly developed Station House in Sea Point.  They say, "If you're gonna love me, love me to the nines".  The restaurant has an elegant and vibrant atmosphere, comprising an indoor and outdoor section plus an out-of-this-world bar section.  The restaurant offers breathtaking 270-degree views over upper Sea Point.  The restaurant's indoor section has floor-to-ceiling glass windows that provide unparalleled views of the Atlantic Ocean.  You can enjoy sunset views of Lion's Head from the outdoor patio.  The restaurant is extremely popular, and bookings are essential in advance.
Cloud 9 Boutique hotel and spa mountain club bistro bar, Tamboerskloof
Cloud9 Hotel's mountain club bistro bar was voted the number 1 rooftop bar in Cape Town!  This rooftop bar offers 360-degree views of the city and Table Mountain.  The restaurant has an open-air ambience with a casual and fun setting.  They serve show-stopper cocktails and various mouth-watering dishes against an unbelievable backdrop.  This rooftop bar is unique because it has a crystal clear plunge pool open to the public, ideal for cooling down on those hot Cape Town summer days.  Note: Non-residents have an R300 minimum spend to use the plunge pool.

Other well-worth-visiting rooftop bars are the Sky Bar in De Waterkant, The Silo Rooftop Bar and The Waiting Room in the city centre.
Top-rated activities in Cape Town
They say paragliding gives you the sensation of free flying without learning to fly.  If paragliding has always been a dream for you, Signal Hill is the ideal place to accomplish it.  Your flight instructor will let you soar like a bird while enjoying views of Lions Head and the majestic Table Mountain.  There is a weight limit of 115kg.  
For more information, click here to book your paragliding adventure.
Encounters with penguins at Boulders Beach
This is an unforgettable experience for big and small.  Boulder's beach, Simon's Town, is located in False Bay, about half an hour's drive from Muizenberg and 40 minutes from Hout Bay.  You are almost guaranteed to get up close with a colony of African penguins on the verge of extinction.  The first time we visited, we were unaware that we could go on the beach and interact with the penguins.  There are two entrances.  The one has a fenced area (boardwalk) and visitor's centre, known as Foxy beach.  Here where you can only see the penguins from behind a wooden deck with a fenced area, but if you walk a bit further along the boardwalk (7 to 8 minutes), you will come to a second pay station from where you will get access to the beach (boulder's beach) and the penguins.  It would be worthwhile to climb over some large boulders in the sea to reach some secluded beaches.
The best time to visit the penguins is from November to August, particularly in the late afternoon when they return from foraging.  You are more likely to see more penguins during the peak of the breeding season (March to May).
The entrance fee for foreigners is much higher (R160 or 8 euros) than for South Africans (R40 or 2 euros), and they do request a passport or proof of residency.  This is a cashless zone.
Pro TIP: There are two parking areas, one at Seaforth Square (biggest and open 24 hours a day) and one at Bellevue Road (close at a specific time – ask the car park attendant about the closure time). 
Kayaking along the Atlantic Seaboard
Kayaking is one of the top experiences to be enjoyed in Cape Town, from Hout Bay Harbour, Century City (Intaka Island) to the V&A Waterfront (day and night trips) and Sea Point.  
You can choose from various tour operators providing these adventures.
 Starting at Three Anchor Bay near Sea Point, you will be taken on a 3 to 5 km (taking approximately 2 hours) adventure either towards Granger Bay or Bantry Bay. Can you imagine the uninterrupted views of Signal Hill, Lions Head, Table Mountain or even the 12 Apostles from your Kayak?
Bookings are essential and weather permitted.  The trip starts from R500 or 25 euros.  It is worth checking out their website as they offer additional activities such as paragliding, snorkeling with seals and ocean photography tours.
Whether you prefer the silhouette of rolling mountains, the gentle waves of the ocean, or gliding through the sky like a bird, the Mother city has something for everyone.  So, grab your camera and a bottle of wine and pick your favourite sunset spot or rooftop bar to enjoy the magic of Cape Town.  In our next article, we introduce you to some of Cape Town's best breakfast spots, country markets and best-kept secrets within a 100km radius.
When you're in Cape Town, remember to listen at 13:30 for a cannon shot by the South African Navy to indicate the time of day, a tradition that dates back to the 19th century.
Click here to read more about SANPark's tourist attractions like Cape of Good Hope, Boulders, Table mountain, Signal Hill and Lions Head and the beaches.
In our next article we tell you more about our favourite breakfast and lunch spots, activities for under a 100 euros and places to visit within a 100 km radius. You don't want to miss it!
To stay in touch what what's on in Cape Town daily, FOLLOW 'Whatsonincapetown' on Instagram!
Download the app PhotoPills from your app store to inform you when it will be sunset, sunrise, twilight, golden hour, supermoon, low tide, hide tide, etc.  This application will enable you to shoot legendary photos.
Some of our other favourite sunset spots:
Related articles that might interest you