If you book or buy something from our website, by using one of our affiliate links, we receive a small commission. However, you will not incur any additional costs. Thank you for supporting our Travel blog.
If you're an intrepid traveller seeking for a splurge-worthy destination, look no further than Split, Croatia. Spilt was until recently mostly known for the Diocletian's Palace, but today, it has claimed its rightful place as a major Croatian tourist destination.
Besides the breathtaking landscape of Split, there is a world of adventure waiting for you at Split. Be prepared to be mesmerised by Split's history, world-class restaurants, and hotels.
The Mall of Split features a 24-hour casino. Split features impressive historic and cultural attractions like the Old Town and the Diocletian's Palace with its breathtaking surroundings. Split's world-class restaurants and bars on Riva promenade is only 3kms from the Radisson Blue Resort.
Split is situated on a peninsula between the eastern part of the Gulf of Kaštela and the Split Channel. Marjan Hill rises in the western part of the peninsula.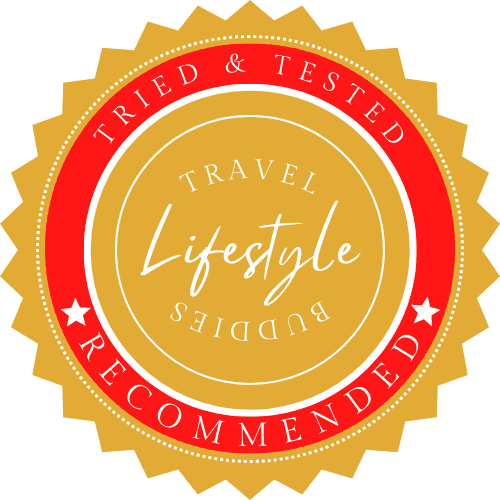 This was not a hosted stay. No compensation was provided for this review.
Where to stay in Split, Croatia?
We stayed at the Radisson Blu Resort in Split which overlooks the Adriatic Sea and the islands of Hvar (read our article about this special island worth visiting) and Brac. The hotel is situated only 3 kilometres from Split's Old Town. With its serene surroundings on a white pebble beach this modern hotel offers anything your heart desires for a holiday in Split.
The Radisson Blu Resort in Split is only 22km from the airport, about a half-hour taxi ride away. The hotel can arrange a pick-up from Split Airport. The hotel is only 3 km from the ferry port, about a ten-minute drive.
Each floor is themed and colour-coded in soothing blue, green and purple palettes. For example, we stayed on the purple level.
On the one side of the hotel, guests can enjoy unobscured mountain and ocean views, while the opposite side boasts magnificent Split-city views. 
The hotel is popular in summer with holidaymakers and business travellers in winter.
The beach is easily accessible via a flight of 100 stairs.
Best features of Radisson Blu, Split
What makes the Radisson Blu Resort in Split unique?
Besides the hotel's excellent location, it offers great amenities included in the accommodation amenities. 
Guests can walk along the coast past several pebble beaches and a sailing marina to the Old Town of Split.
The Radisson Blu Resorts are known for their chic and modern hotels. This one in Split offers many large windows and glazing (even the balconies have glass fronts) to provide unobscured ocean views.
Many palm trees and impressive Cypresses give the hotel a natural feel.
The hotel offers many water sports activities (jet skis, diving school, wakeboarding, and tubing), a state-of-the-art spa, a beach club, and a gym. The beach club, called Mistral Beach is only open in summer.
Mistral Beach Club  is located below the Radisson Blu Resort and right at the beach. The club is open from mid-May to the end of October. The beach club is open from 10 a.m. to sunset. The bar and restaurant are open from 12 pm to 6 pm. For a lazy day at the beach, you can select from various sun loungers (ranging from the VIP west and east wing to premium cabanas) either on the wooden deck or on the beach. 
The prices differ monthly, but a VIP west wing cabana (seating up to 12 people) starts at 750 euros to 1000 euros in the peak period (16th June to 15th September). Loungers at Pebble Beach are complimentary for hotel guests. For detailed prices of the lounges at Mistral Beach Club, click here.
Spalato Spa at Radisson Blu Resort
The Spalato Spa is one of the best spas we ever visited at a hotel. The use of all amenities at the spa is free of charge for hotel guests (for outside guests, a day pass costs 37 euros).
The spa offers a large indoor pool, two pungle pools, a steam bath (hammam), Finnish and Bio sauna, two jacuzzies, and a fabulous outdoor pool. There is even 12 treatment rooms. The spa is open from Monday to Sunday 7 am to 10 pm.
Where to eat and drink at Radisson Blue Resort?
The hotel has three on-site restaurants and two bars. Breakfast can be enjoyed at The Fig Leaf restaurant, with splendid ocean views.
We loved the breakfast buffet with a wide selection of hot and cold foods, including many healthy options for vegetarians, vegans, and gluten-free. 
Fig Leaf restaurant has an indoor and outdoor section.
The outdoor seating area is located on an airy terrace shaded by white awnings. It offers great views over the ocean and an outdoor pool area. 
Caper Grill restaurant offers incredible sea views and freshly prepared Mediterranean dishes. Door-bar is the go-to place for magnificent cocktails in chic surroundings.
The elegant Door Bar is open all year and serves quality Croatian wines and premium spirits.
What is the accommodation like at Radisson Blu Resort in Split?
The Radisson Blu Split offers 252 magnificent rooms, from superior city-view rooms to superior rooms with a balcony (which we stayed in).
The rooms feature modern conveniences and necessities such as free high-speed wireless internet, bathrobes and slippers and access to one of the best spas.
The ocean-view rooms overlook the islands of Brač and Šolta.
Each floor is themed and colour-coded. For example, we stayed on the Lavender level.
Most rooms have exquisite sea views, with floor-to-ceiling windows and doors opening onto a large balcony.
Our bathroom had a free-standing bath, a walk-in rain (large) shower, double vanities and a separate toilet with a basin.
The room had great amenities, including a pod coffee machine and kettle with several types of coffees and teas.
Our terrace had two sunloungers, and patio chairs; featuring incredible views over the outdoor pool and ocean.
All rooms have air conditioning and flat-screen TVs.
How to get to the Radisson Blu Split?
The Radisson Blu resort is Split is only 22 km from the airport, about a half-hour taxi ride away. The hotel can arrange a pick-up from Split Airport. The hotel is located only 3 km from the ferry port which is about a ten-minute drive.
There is no better destination to satisfy your wanderlust than Split Croatia.
SUBSCRIBE to be first!
Subscribe to our blog to be notified of EXCLUSIVE deals from hotels, lodges, vendors, etc. limited to our followers. No SPAM!