Johannesburg, Joburg, Jozi, or Egoli (meaning place of gold)  is the capital of the Gauteng province and the biggest city in South Africa. 
We often get the question "What is there to see and do over a weekend in Johannesburg?". The answer is A LOT!
1 Prison Break Market (between Lonehill and Kyalami)
What is Prison Break Market?
This market is unlike anything you have ever experienced! Forget everything you have seen in Cape Town's most sought-after markets…this one is in a class of its own! It's a free food and lifestyle market hosted in seven uniquely built sheds on a larger property opposite the Leeukop prison.
The seven sheds are mostly managed by keen and friendly vendors who value visitors and regularly take the time to discuss (with pride) their services or products. That's probably the reason for the success of this special market. Moreover, because the vendors can manufacture and sell their products in one location, the atmosphere is unpretentious and authentic, the way a local market is supposed to be.
The seven sheds are named Star Foods, the Yard Eatery, Crafters Shed, Clay Café, Dreambox, and The Pour House. For those looking to host an event there, they have a function venue called San Quentin.
What to do at Prison Break Market?
You can enjoy food from hand-picked food vendors in stylish barn settings in a country setting. Here is something to do for young and old. From boutique alcohol tasting experiences to creative art combined with a restaurant experience, the well-planned outdoor play area for kids and the fun photo booths create memories to last a lifetime.
What can be expected from the sheds at Prison Break Market?
Shed 1: Star foods at Prison Break Market
This shed hosts gourmet food vendors in a market environment. Here you can sample freshly baked bread, buy fresh fruits and vegetables from the prison break farmers, or buy fresh meat from the German butchery 
Trading hours:
Wednesday to Friday: 9m to 3 pm.
Saturday and Sunday: 9 am to 5 pm.
Shed 2: The Yard Eatery at Prison Break Market

This is the place to come hungry! Besides the vibey, uncrowded, and comfortable seating areas inside where you can enjoy your meals, there is also a large outdoor wooden deck outside where you can enjoy drinks from the well-stocked bar. Here is a fun outside playing area for kids (you are welcome to bring along kids' scooters). There are easily about ten or more unique food vendors in this shed to choose from, from pizzas to traditional African food, Spanish, Asian, waffles, and Sushi, too much to mention.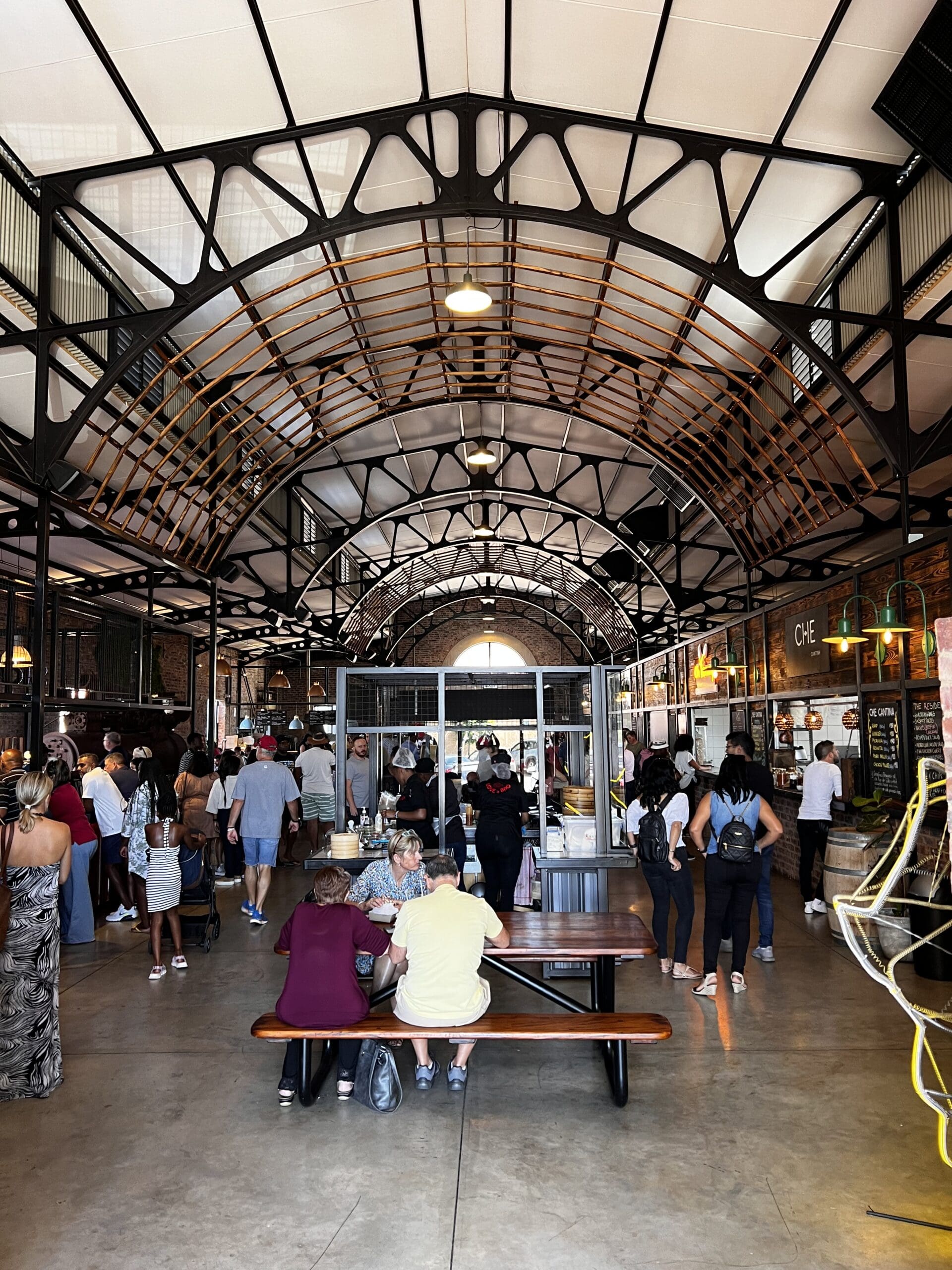 Shed 3: Crafters Shed at Prison Break Market

Crafter's shed hosts unique individuals who want to showcase their talents and creativity. Here you can watch them perform their craft or join classes to master trade skills. Several classes are available here, including jewellery making, stained glass, weaving, etc.
Trading hours:
Wednesday to Sunday, 9 am to 3 pm.
Shed 4: Clay Café at Prison Break Market

Clay Café offers a special bonding experience for friends and family. This creative ceramic painting restaurant lets you choose from a vast array of unfired bisque to create personal and unique pottery. You can enjoy light meals with a cocktail or glass of wine while creating your masterpiece.
Trading hours:
Tuesday to Sunday, 9 am to 5 pm
Shed 5: Dream Box at Prison Break Market

Dream box is every social media lover such as Instagrammer's dream come true! Here you will find 12 individualized rooms with innovative themes to take the coolest photos. Bookings are essential and are only open from Friday to Sunday, 10 am to 5 pm.
Shed 6 is the events hall available for rent for private functions.
Shed 7: The Pour House at Prison Break Market

This is such a unique concept and reminded us of the wine-tasting rooms of Cape Town. Although here, you can find gin, beer, vodka, rum, and wine in one tasting room! How fabulous is that! The Pour House has a beautiful inside and outside seating area with several food vendors, and the setting is classy and looks incredibly inviting. The Pour House is the place to be over a weekend to enjoy the best Joburg offers. The vendors in Pour House consist of The Noble Experiment, The Wine and Spirit Library, and Wildebeer Brewing Company.
Before you go, each shed has different operating hours and might only be open on certain days. The complex is a cashless zone…all stalls took credit cards with tap functions. There is ample free parking! We arrived at 11 am Sunday and found parking near the entrance. The tables can get busy near breakfast or lunch, so rather arrive before the rush hour. The market is located in a very safe part of Johannesburg.
Is it worth visiting the Prison Break Market?
Absolutely. This market offers free entry and free parking. So even if you're just curious, this is worth taking a trip to the outskirts of Johannesburg to visit this vibey and unique, upscale market.
2. The Walter Sisulu Botanical gardens
What is the Walter Sisulu Botanical gardens?
The gardens are set in a serene natural area. Green rolling lawns invite you to enjoy a picnic beneath giant trees while birdwatching and admiring the indigenous plants and wildlife. For the more adventurous, there is a moderately challenging trail through a magnificent geographical area.
Where is the Walter Sisulu Botanical gardens?
The botanical gardens are near Ruimsig, Johannesburg, forming part of Johannesburg's mining heritage. The magnificent cliffs, with their bands of quartzite and shale rocks, remind us of the geographical history which formed them. 
What makes the Walter Sisulu Botanical gardens special?
A spectacular 70-meter-high natural waterfall is within easy walking distance from the main entrance. The garden and nature reserve are home to a rich diversity of 245 bird species. It is the nesting site for the resident pair of Verreaux's Eagles, which can be spotted near the cliffs of the waterfall.
What is there to do at the Walter Sisulu Botanical gardens?
There are several viewpoints, a hiking trail, a restaurant, and a breathtakingly beautiful waterfall. The gardens are most frequented for enjoying picnics or attending outdoor concerts.
The hiking trails at the gardens
The hiking trail: The geological trail starts at the waterfall. It is approximately 3.9km long, with a 209-meter elevation, which takes about two and ½ hours to complete including rests. The route is popular for birding, hiking, and walking. Remember to ask for a trail map at the entrance! Although we have only hiked parts of the route, some places are quite steep and rocky. Some challenging parts require a level of fitness.
The restaurant at the gardens
The restaurant: Eagle's fare restaurant is near the gardens' entrance. Here you can enjoy a delicious breakfast or lunch in the magnificent garden. Note that even if you plan to only eat at the restaurant, you still need to pay entrance fees. 
The waterfall at the gardens
The waterfall: The waterfall is spectacular and worth visiting. We have been there twice, and not once have we experienced over crowdedness at the falls. People were very courteous and allowed us to take wonderful photos. No picnics are allowed near the falls to limit the number of people near the falls.
Picnics: We cannot imagine a more beautiful setting to picnic in nature. There is a multitude of trees with rolling green lawns. And the best part? There are helpers at the entrance, changing R20 per 'trolley', to transport your food, drinks and even your toddlers to your desired spot. This location is ideal for photo opportunities, birthday parties, special events, or celebrating life with friends and family. You can bring as much food, drinks, and decorations as possible. On both occasions, we witnessed some beautiful wedding photography sessions.
Trading hours of the Walter Sisulu Botanical Gardens:
The gardens are open Monday to Sunday, 8 am to 5 pm.
Entrance fees are R70 per adult, scholars 6 to 18 years pay R20, and children under 6 enter free. 
Where is the Cradle of Human Kind?
The Cradle of Humankind is located 50km northwest of Johannesburg. If you want to go there by car, type "Maropeng: Official Visitor Centre for the Cradle of Humankind" into your Navigation system like Google Maps.
Petra visited the Cradle of Human Kind, known as the birthplace of humankind. It is not easy to find the actual places to go and see, as the entire area is known as the Cradle of Humankind.
There are two locations to visit, the Visitor Centre and Sterkfontein Caves. They are not in the same location and have separate entry fees. At the time of our visit in March (2022), the Sterkfontein Caves was closed and no information was available. As we learned later, the caves remain closed until further notice due to the heavy rainfalls.
What is the Cradle of Humankind about?
According to the official Maropeng website, life emerged about 3.8 billion years ago here in Africa. The journey begins in South Africa, where fossils of some of the earliest known life forms on Earth have been found. Cradle of Humankind is a paleoanthropological site, and it was declared a UNESCO World Heritage Site in 1999. The site is home to the largest concentration of human ancestral remains anywhere in the world.
Is it worth visiting the Cradle of Humankind?
A visit is worthwhile. Inside the visitor centre, an interesting interactive exhibition awaits you on topics such as evolution and the history of the Earth. Old and young can learn a lot with films, quizzes, replica sets and much more.
What is there to do at the Cradle of Humankind?
In the Maropeng Visitor Centre, you embark on a journey through evolution. Here, exciting questions such as "How did the human brain develop?", "Where did language and languages come from?", "When did humans start using fire?" or "What are the risks for us humans in the future?" are answered. 
From Maropeng, you should continue to the Sterkfontein Caves (approx. 15 min). Here such famous fossils as "Mrs Ples" and "Little Foot", an almost complete Australopithecus skeleton about three million years old, have been found. It is worth visiting both sites, Maropeng and Sterkfontein Caves, in one day, as both exhibitions complement each other.
How much is the entrance fee at the Cradle of Humankind?
Admission to the Maropeng Visitor Centre is 100 rand for adults. Children under four do not have to pay for admission. The ticket for the Sterkfontein Caves costs 100 Rand
The Zone@Rosebank is located in Rosebank near a Gautrain station. The red bus also makes a stop directly in front of this centre. 
This is a popular weekend destination because of its pedestrian walkways lined with unique restaurants, cafés, local fashion and novelty stores. 
We enjoyed an unforgettable brunch at Proud Mary.
From beautiful landscapes to unique farm markets Johannesburg has so much to offer over a weekend. Even though Johannesburg does not have a 'Table Mountain", the lush wine routes or ocean boardwalks of Cape Town it has its own charm and attractions to enjoy a memorable and relaxing weekend in the heart of the economic hub of South Africa.
These articles might also interest you