If you book or buy something from our website, by using one of our affiliate links, we receive a small commission. However, you will not incur any additional costs. Thank you for supporting our Travel blog.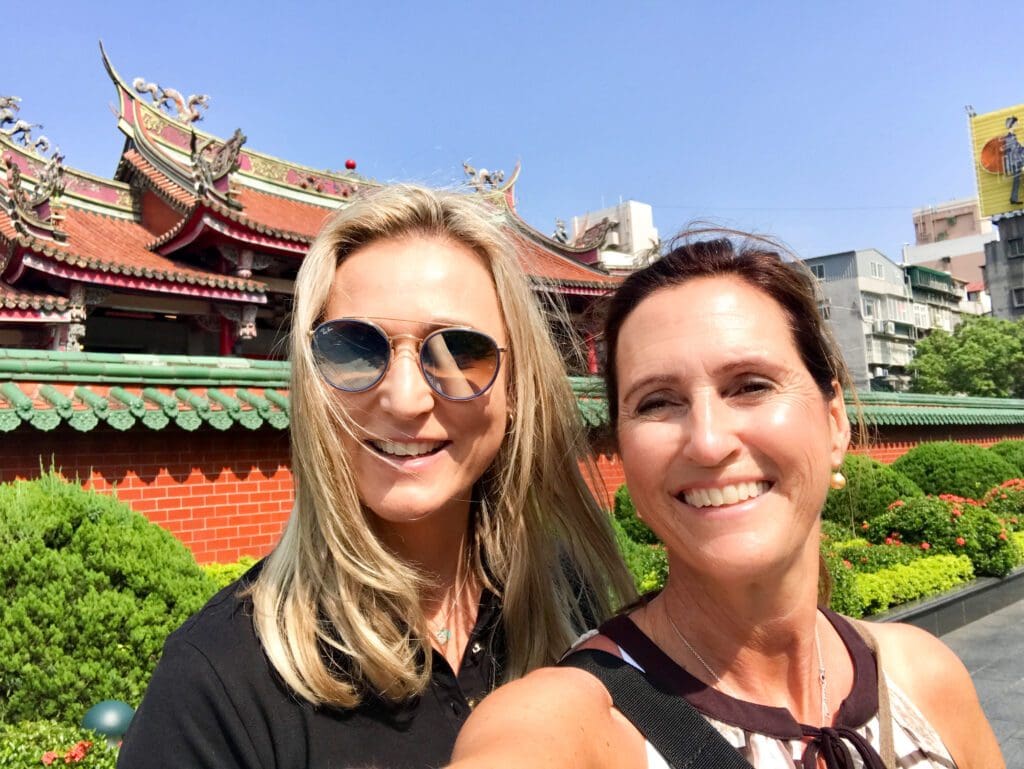 Taiwan is a destination I had never considered before. Asia has never been at the top of my travel list; I always wanted to explore the diverse landscapes of African countries. However, when Bernie watched a Taiwanese documentary, she was determined to persuade me to embark on this adventure. I quickly became excited to learn more about the culture and people in this part of the world, as I knew almost nothing about it. Even though we enjoyed the planning, we had less than ten days to select which attractions to include. In this article, we share our itinerary and explain why we are convinced that Taiwan is a destination that should not be underestimated.
Preparing for Your Trip to Taiwan: What to Know in Advance
Taiwan covers a relatively small area of just 36,000 square kilometres (394 kilometres in length and a maximum of 144 kilometres in width), which is roughly equivalent to the size of the German state of Baden-Württemberg.
Although Taiwan boasts a well-developed public transportation system, we chose to rent a car for most of our journey. This allowed us to stop whenever we felt like exploring a place for longer, and this approach led to many wonderful encounters with the local population.
English is well understood in Tapei, but it's not as widely spoken in the rest of the country. Nevertheless, thanks to the friendliness and helpfulness of the Taiwanese people, you will not experience communication problems, even if it's with a few key English words, gestures, or the tried-and-true method of hand signals.
Taiwanese folks are incredibly patient and more than willing to explain things repeatedly until you fully grasp them.
On the first morning of our stay in Taipei, we found ourselves perplexed in front of a ticket machine, attempting to figure out how it worked. Within no time, someone approached us to explain everything about Taipei's public transportation. On another occasion, we opened our city map on the platform, and an older gentleman approached us, offering his assistance in well-spoken English. He was so kind even to accompany us on the S-Bahn journey, sharing stories about his life.
September, October, and November are often cited as the best time to visit Taiwan. Our trip to Taiwan was from late October to early November. The temperatures were really pleasant. It's interesting how much the climate differs between the northern and southern parts of the island. The north experiences a subtropical climate, while the south has a tropical climate. These differences became quite evident during on ou trip.
During our trip (2018) and even today, flights with Air China via Beijing are still quite affordable. However, we preferred not to fly through China and, therefore, chose to travel to Taipei via Emirates through Dubai. These flights enabled us (Bernie from South Africa and me from Germany) to land simultaneously in Dubai. From there flew the last eight hours of our journey together.
We arrived in Taipei in the afternoon and initially planned to take the train or subway (which costs around 3 to 5 euros) from the airport to the city. However, after the long flights and the significant time difference, we were very tired and therefore decided to rather take a taxi (around 40 euros) directly to the hotel.
Our round trip took us to the following places: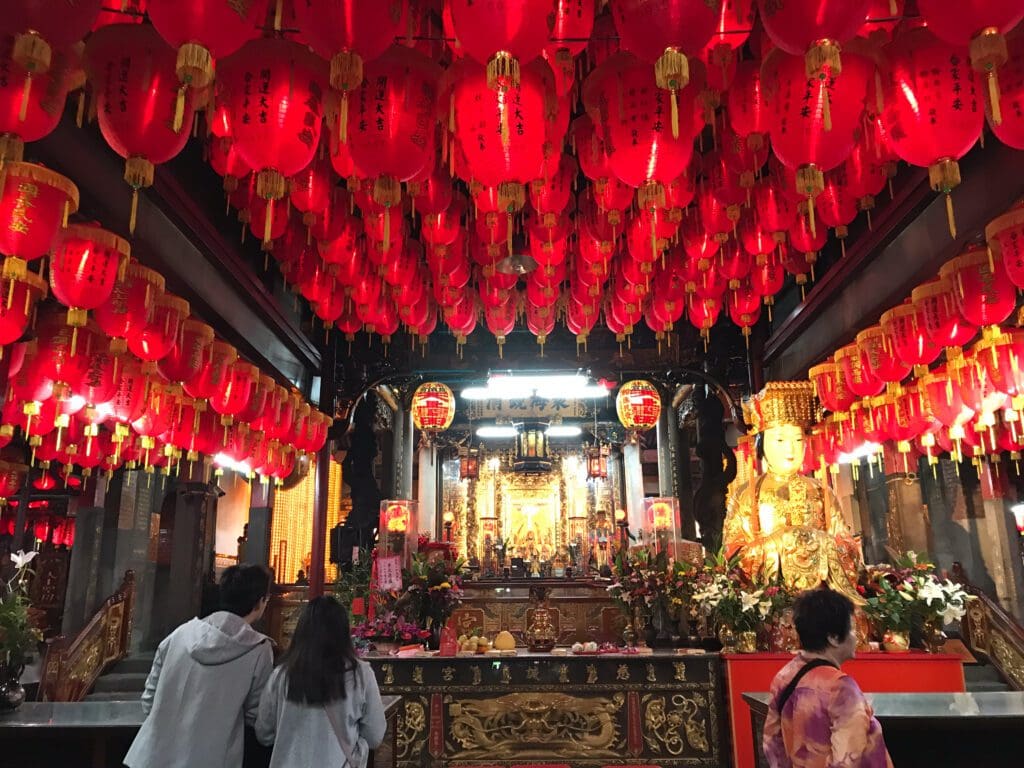 Why stay in Taipei, the capital of Taiwan?
Taipei captivated our imagination from the first moment. Taiwan's capital city impressed us with its modern skyline, the famous Taipei 101 skyscraper and the traditional neighbourhoods with lively night markets and charming spice and grocery stores.
The city is a cultural melting pot and offers an impressive array of culinary delights, from unique street food to world-class gourmet restaurants. Taipei is home to numerous temples and boasts a thriving art scene. It provides modern entertainment options and green oases of relaxation amidst the bustling surroundings.
What struck us the most was the remarkable hospitality of the people. Moreover, we felt very safe walking around Taipei at night.
We stayed at Uinn Business Hotel near the centre of Taipei.  The hotel's spacious room offered a magnificent view of the city. The hotel is located in Shilin, which is only 600 meters from the Shilin Night Market. We enjoyed visiting the market because it was conveniently close to our hotel. Also, right in front of the hotel is a bus stop, and the MRT station is only one kilometre away.
The following day, we were very eager to explore Taipei. We initially took the bus, but the next day we preferred to walk to the train station, as there was a lot to see along the route. 
Where are the best night markets in Taipei?
Shilin Night Market is the most popular market in Taipei
We read many articles and watched YouTube videos about the Taiwanese night markets. What would a stay in Taipei be without a visit to the well-known Shilin Night Market? As mentioned earlier, this market is within walking distance of our hotel, so we visited the market several times.
Shilin Night Market is one of the city's largest and most popular night markets, attracting a diverse crowd of all ages. The market sprawls across an entire residential neighbourhood and offers many goods and delicacies.
Most visitors flock here for the food, which results in a bustling atmosphere between 7:00 PM and 8:00 PM. During this time, the narrow alleys are filled with people navigating past countless street food vendors. This didn't deter us at all as it is part of the market's charm.
Our mission was to sample as many unfamiliar dishes as possible. We bought an assortment of intriguing-looking food that Bernie selected for us. Her role was then to photograph me savouring (or should I say choking on) everything. As you can imagine, this experiment led to plenty of laughter.
Taipei 101 is a 508-meter-tall skyscraper, once the world's tallest building until 2007. The tower is named after the number of floors. Interestingly, an intriguing architectural feature lies between the 88th and 92nd floors: a massive 660-ton steel sphere. This sphere is designed to balance out vibrations, ensuring the tower's stability even during earthquakes (Taipei is located in a seismically active region).
Despite its modern appearance, Taipei 101 incorporates traditional elements in its architecture. Its silhouette resembles a tapering bamboo stalk, and dragon heads adorn the building's corners.
The lower levels of the building house an impressive shopping mall, making it the perfect destination for lovers of international designer boutiques.
Visitors can also take the high-speed elevator, travelling at approximately 60 km/h, to the observation deck on the 89th floor, from where you get exceptional views of the city.
Where to take the best photos in Taipei?
Elephant Mountain in Taipei
Do you want to capture a breathtaking photo of Taipei 101? Then, you must walk up the many stairs to Elephant Mountain. Once at the top, you'll be rewarded with a panoramic view of Taipei and the famous Taipei 101. Bernie was initially reluctant to climb to the top but afterwards very happy I convinced her to do it.
We aimed to climb to the top to witness a sunset from the mountain. Even though our visit was at the end of October, it was still warm and humid. We were sweating to the top, and the many mosquitoes took quite an interest in us.
A word of advice: apply enough insect repellent before you go to ward off these pesky critters.
When we reached the summit, our efforts were rewarded with the most magnificent view of Taipei.
Unfortunately, a slight haze in the air resulted in less-than-perfect photos.
Good to Know: Elephant Mountain is just a few minutes walk from Taipei 101.
More Fascinating Places in Taipei
Because we explored the city on foot, we discovered many interesting places in different districts.
One was the Chiang Kai-shek Memorial Hall, near the impressive Grand Hotel, concealed in history. This hotel is well worth the visit, even if it's just to enjoy a refreshing drink. It boasts a palace-like façade and has a lovely coffee shop showcasing the magnificent interior of the hotel. Moreover, this hotel is frequently visited by the rich and famous.
We also visited the quirky Rilakkuma Café, where all the dishes served resembled teddy bears (unfortunately, the well-known coffee shop is now closed).
In the Datong District, exotic spices and herbs allowed us to be transported to a different world. This part of the city is home to numerous historical buildings and several museums.
Travelling from Taipei to Kaohsiung
After two exciting days in Taipei, we were eager to explore other areas of Taiwan. We took the high-speed train to Kaohsiung, where we would pick up our rental car. Reserving the car from home (Germany) was somewhat challenging, and I only succeeded after calling Avis in Taiwan to make the booking.
Upon arriving at Kaohsiung's train station, it took us some time for us to locate the Avis office as it is tucked away in a small side street. The worst part was that none of the personnel at the Avis branch spoke English. We then communicated with gestures and body language before hitting the road with our rental car.
Is it worth visiting the Fo Guang Shan Monastery in Taiwan?
Fo Guang Shan is the most well-known monastery complex in Taiwan, and its name translates to "Mountain of Buddha's Light."
From a distance, you can spot the impressive 36-meter-tall Buddha statue surrounded by 480 smaller images.
The vast size of the complex left us in awe, and amidst these statues of immense proportions, we couldn't help but feel small and insignificant. It is possible to stay overnight at this monastery to delve deeper into Buddhism.
When and where is the best festival in Taiwan?
The Wang Ye Festival in Dongang
Every three years, one of the most significant religious festivals occurs in the southern port city of Dongang. Fortunately, this traditional custom coincided with our journey, allowing us to spend a day in Dongang.
The festival spans eight days, climaxing with the ceremonial burning of boats on the beach. Interestingly, a wooden ship is constructed for an entire year, only to be solemnly set ablaze on the festival's final day.
We were in the midst of the festival in Dongang, and we had the opportunity to witness many unfamiliar rituals, some of which may have been a bit unsettling. We ventured to taste exotic foods and some rather peculiar beverages.

Dongang was an eye-opening experience, as it allowed us to engage with the authentic life of the Taiwanese people, even if we couldn't communicate and understand much of what was happening.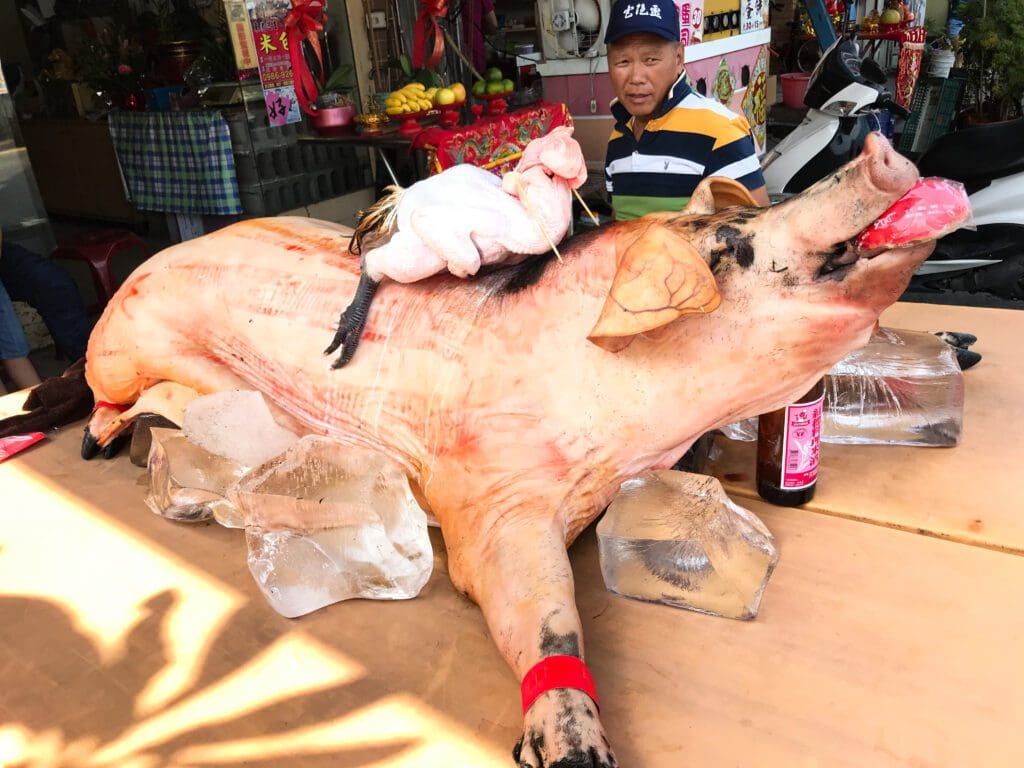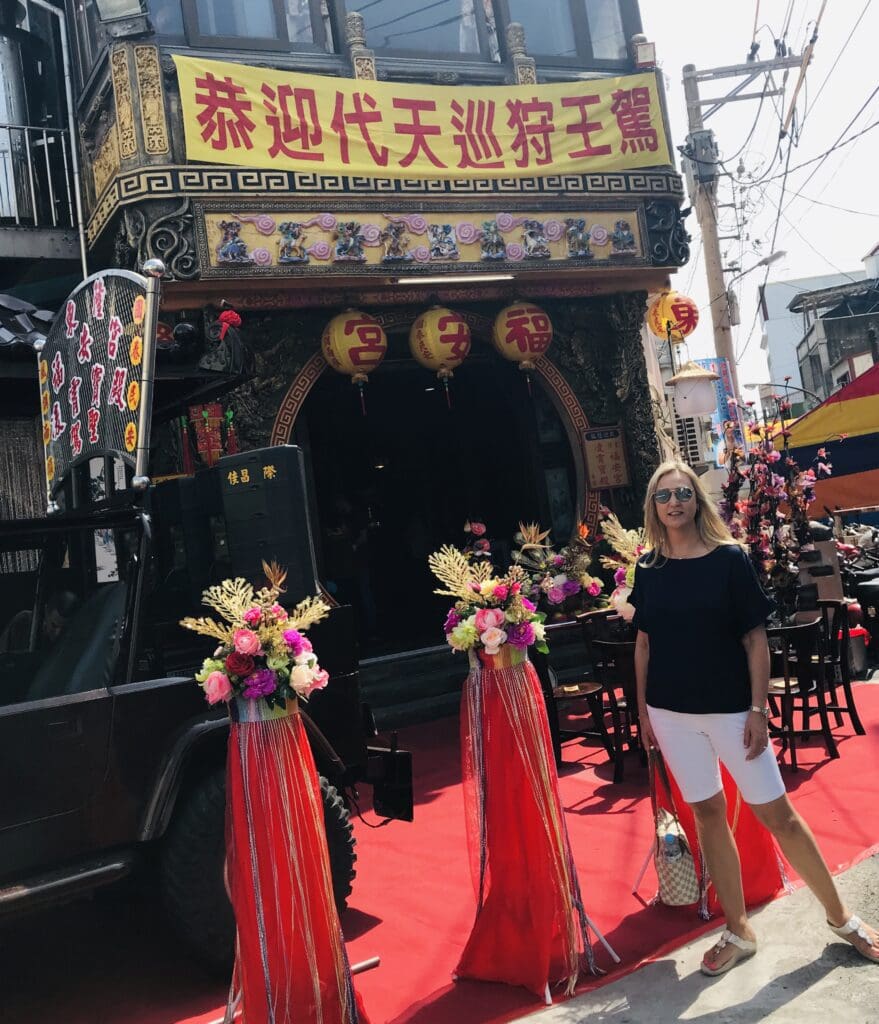 Is it worth visiting Kenting National Park, Taiwan?
Kenting National Park, located at the southern tip of Taiwan, has a tropical climate and pleasantly warm waters, making it an ideal destination for holidaymakers.
The national park features stunning sandy beaches, coves, and diverse vegetation. There are several charming towns worth visiting, and Kenting hosts a lively night market every evening.
When we visited Kenting National Park at the end of October, the atmosphere was particularly serene, and the temperatures were quite pleasant.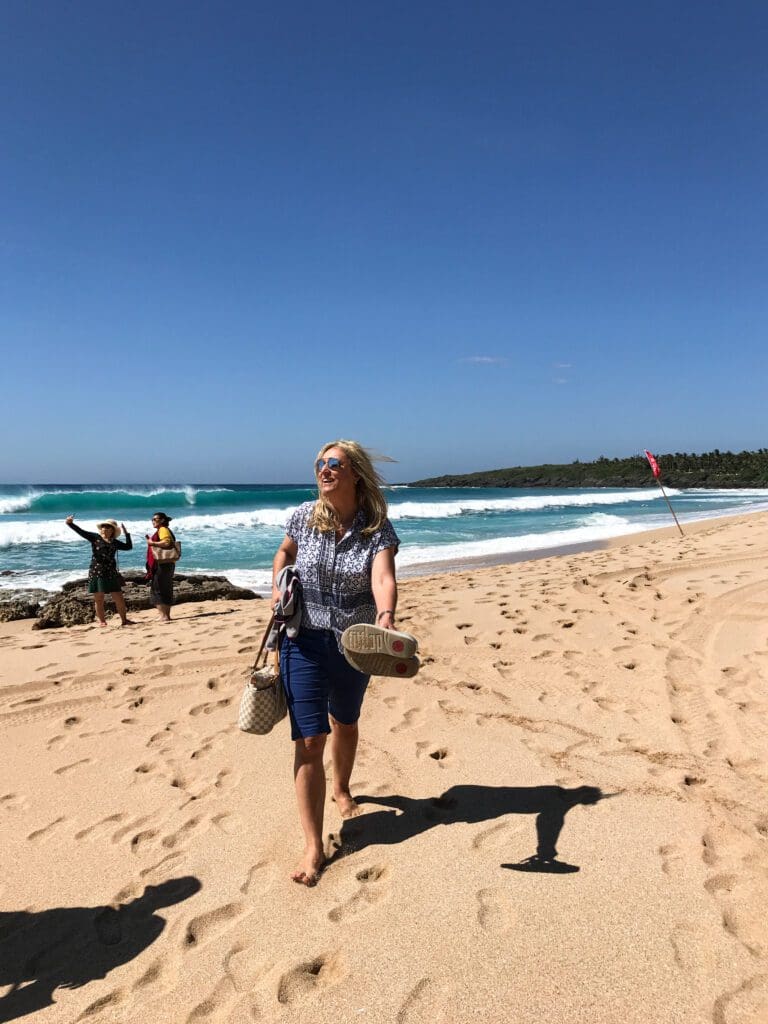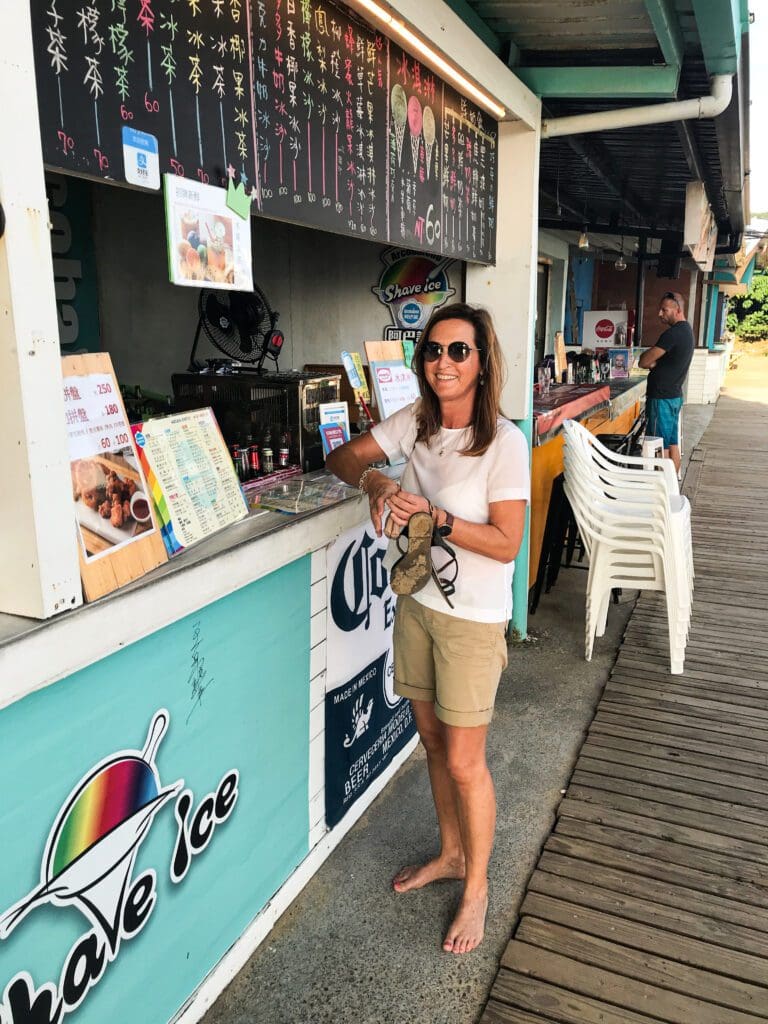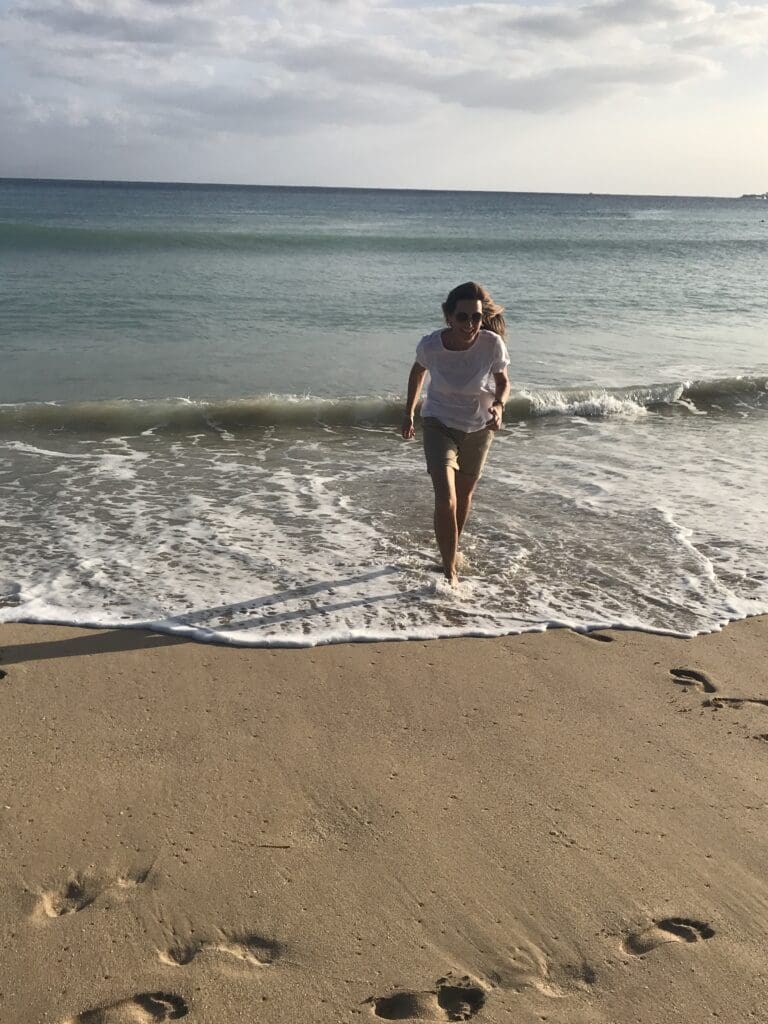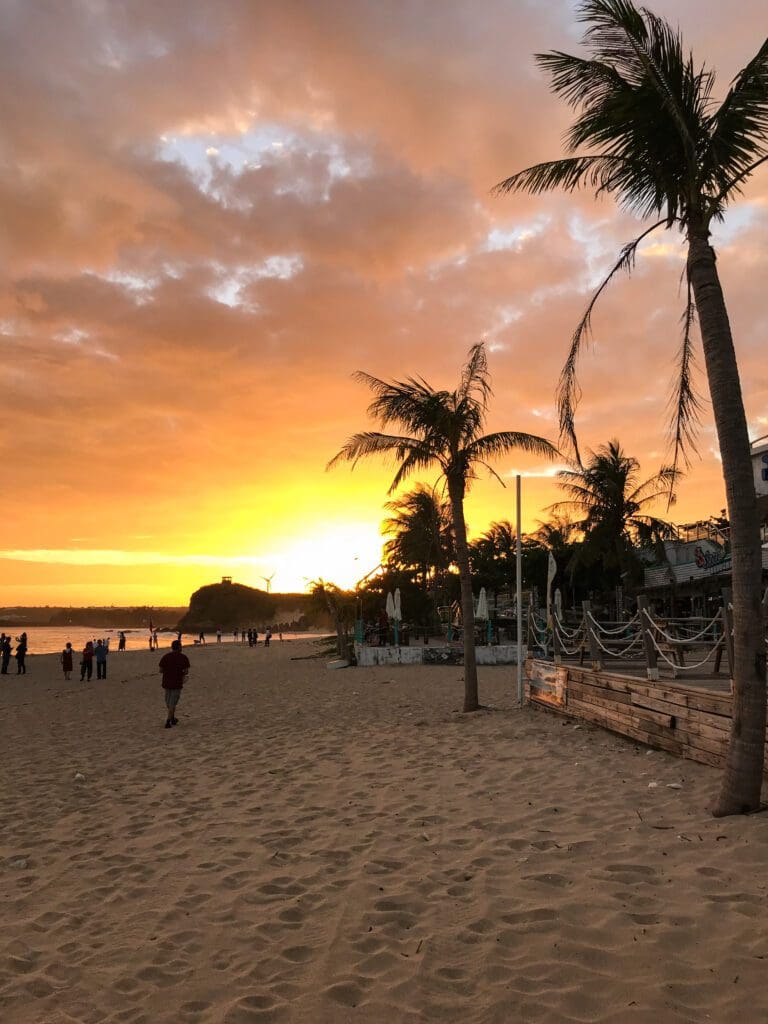 What makes Taroko National Park special?
Named after the famous Taroko Gorge, the Taroko National Park is one of the most visited attractions in Taiwan. The park's central highlight is the breathtaking marble gorge, which has been carved deep into the rock over time by a river.
Part of the road leading through the gorge has been carved into the rock walls, providing spectacular views of the marble canyon. During our journey into the park's centre, we frequently stopped to admire the dramatic landscapes, the gorge, and the steep, forested slopes. You can also find pavilions, pagodas, and temples on the rugged cliffs, some open to visitors.
Upon entering the park, you receive a map detailing the hiking trails and points of interest. Numerous spectacular hiking routes lead past waterfalls or across thrilling suspension bridges. It's essential to plan which hikes you intend to do within the national park in advance.
Unfortunately, we had to change our hiking plans due to unpredictable weather conditions. Instead, we took our umbrellas and strolled from our hotel to the nearby attractions.
Our Stay at Silks Place Hotel in Taroko National Park, Taiwan
We stayed at Silks Place Hotel in Taroko National Park. Despite (the most expensive hotel of our trip). It cost more than 300 euros per night for a double room, and it didn't meet our expectations in any way. The atmosphere in the hotel was cold and impersonal. The hotel's main attraction, the rooftop pool with a bar, was closed due to the heavy rains. Our search for another place to enjoy a drink was in vain, so we bought drinks and snacks at a nearby supermarket.
However, the dinner (a buffet) with various local dishes was exquisite. The hotel's location is spectacular, and the view from the rooftop pool is undoubtedly unique on a sunny day. Regrettably, we do not believe this hotel offers value for money.
Jiufen - A Historical Taiwanese Mountain Village
Jiufen, also known as Jioufen or Chiufen, is a charming mountain village approximately 40 kilometres east of Taipei. This former gold mining town is characterized by its many small historic buildings, picturesque alleyways adorned with colourful lanterns, and numerous cosy shops and restaurants.
Unfortunately, the weather (again) didn't cooperate during our visit to Jiufen. This prevented us from enjoying the sea view from Jiufen. The village gets very crowded at any time of the day or week, making it challenging to navigate the narrow pathways, let alone with umbrellas.
Nevertheless, the small streets were lined with various shops offering a wide array of goods that left nothing to be desired. We loved the many spices and tea shops that filled the air with unknown fragrances.
Overall, we found Jiufen touristy; however, gaining insight into a historic Taiwanese mountain village was interesting.
Contest for Independent Travelers to Taiwan
As the tourism industry has suffered a significant decline during the COVID-19 pandemic, Taiwan has devised an innovative solution to reinvigorate tourism in 2023. You can learn more about this contest by visiting the following link: Contest Details
Taiwan is undeniably worth a visit. This small island allows you to explore the most captivating aspects of Asia, from breathtaking gorges and rugged coastlines to majestic mountains and beautiful beaches. Taiwan's cities skilfully blend tradition and modernity, offering a fascinating experience.
Taiwan may not be the ideal destination for those seeking famous and frequently photographed landmarks. Instead, the country reveals countless beautiful and intriguing places as you wander and explore.
Another vital point in Taiwan's favour is safety. It ranks among the most secure travel destinations. We always felt comfortable and safe, even when exploring the island at night.
SUBSCRIBE to be first!
Subscribe to our blog to be notified of EXCLUSIVE deals from hotels, lodges, vendors, etc. limited to our followers. No SPAM!