If you book or buy something from our website, by using one of our affiliate links, we receive a small commission. However, you will not incur any additional costs. Thank you for supporting our Travel blog.
If you have read my blog "Tips and guide for first-time visitors to Mauritius," you know Mauritius has much to offer whether you're single, married or with a family.
This was not my first time visiting Mauritius or the Preskil resort. I visited it more than 10 years ago when my boys were noticeably young before the resort was refurbished (in 2019).
Preskil is an upmarket island resort, kite surfers' paradise, aimed at families who enjoy all kinds of water sports (the resort has an on-site diving school), need large rooms with tranquil ocean or lagoon views, and want to experience an intimate resort.
This review will share valuable tips and details of my stay, including my beachfront junior suite and the resort's most noteworthy features and activities. I'm also going to suggest a place where you can rent a scooter to explore the island and nearby attractions within a short walk or taxi ride from the resort for those who wish to explore the island on the South-side a bit.
What is Preskil Island Resort in Mauritius like?
Preskil is a superior 4-star family hotel located on a small peninsula in the Southeastern side of Mauritius. Essentially, this ensures that there are no walk-throughs from the beach on either side. The resort offers six distinct room types, including deluxe family rooms consisting of two separate rooms, which are ideal for families with children. This resort is unique because its rooms are much larger than the average room size in Mauritius; the smallest room (a superior room with ocean access and view) has a floor size of forty-five m2.
The resort has two swimming pools, a Banyan spa and three restaurants with bed and breakfast, half-board, full-board, and all-inclusive options and several very private suites.
Who would enjoy Preskil Island Resort in Maurort?
As mentioned earlier, this resort is ideal for families looking for a protected beach where their children can play in a safe and secure environment. It is also ideal for more mature couples looking for a relaxed island escape in luxurious surroundings with good dining options. During our visit over the Easter holidays, most guests were families with children from various parts of the world. The resort is so successful because they offer a good range of rooms at different prices making the resort accessible to all.
The ocean view junior suites at Preskil Island Resort and Spa in Mauritius
I stayed in one of the upstairs junior suites, decorated in pastel shades of green. It is their most luxurious room type. It had enormous sliding doors and windows leading from the bedroom and seating area onto two balconies. The total floor size of the junior suites is 83 m2.
The king-size bed was super comfortable, facing the majestic mountains and ocean. Although the room had complete block-out curtains, we preferred sleeping with our curtains open to wake up to unprecedented morning views. Our room was modern, light and featured a huge day bed, a coffee seating area, an open bathroom with shower and bath, and double vanities (a necessity for me).
The fully stocked bar fridge was very convenient and replenished daily according to our needs. Our room also had a capsule coffee machine and a conventional kettle.
Where is Preskil Island Resort located?
Preskil Resort is conveniently located within 15 minutes of the SSR airport, making it extremely convenient for arrivals and departures. This was one of the main reasons we selected the resort. For example, our SAFAir flight arrived in Mauritius at 16:00, allowing us to enjoy our first evening to the fullest. Our departure time was at 16:15 a week later, enabling us to have lunch still and enjoy the ocean until 14:30 in the afternoon.
As noted earlier, the secluded beach is super protected from beach hawkers and other unwelcoming attention, which is sometimes problematic at other resorts. However, due to the beach's location, it does not have the sandy-soft texture you would have in most other parts of the island.
Another outstanding point of this resort is that there are more than enough sun loungers with thatch umbrellas along the beach, avoiding that early morning rush to place a towel to secure your spot for the rest of the day (if you have ever been to a large resort, you definitely know what I'm talking about).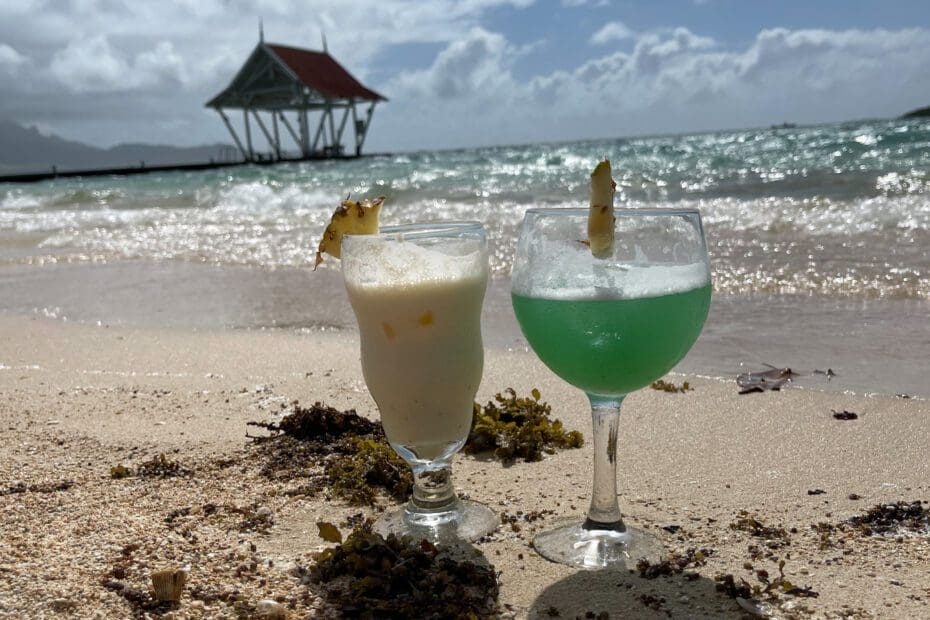 What facilities are available at Preskil Island Resort and Spa, Mauritius
As I mentioned at the beginning of my review, the resort has two pools. The main rim flow pool overlooks the ocean and is located within a few meters of the beach and the main building. The second smaller athletic pool is tucked away between rooms and a garden section of the resort. 
We indulged in a couples massage and luxury jacuzzi bath at their Banyan spa. Although the spa offers nothing extraordinary, they have an extensive list of treatments, from massages to unique wellness packages that include manicures and pedicures. It must be noted that even though the hotel was full over the Easter holiday, it never felt overcrowded.
What I most enjoyed about the resort
I loved waking up to the turquoise ocean and only taking a few hundred steps to the beach.
I thoroughly enjoyed the glass-bottom boat trip to Iles aux Aigrettes, snorkelling directly from the beach, and savouring cocktails at the Medley bar overlooking the main pool and ocean.
I liked the quiet beach and never felt overcrowded in any of the resort's spaces.
All aspects of the resort are well-maintained. The concierge desk facilitates interesting excursion bookings, such as catamaran cruises and car rentals. The catamaran cruise is a definite must-do activity! We hesitated to do it because we thought it would waste a full beach day. Luckily, a hotel guest recommended this experience to us. Read more about this in my previous Mauritius blog.
A word of advice, don't buy too many holiday clothes before you arrive. The resort has a fabulous boutique that sells everything from beach clothing to souvenirs, hand-crafted beach baskets and other unique must-haves. I could even recall this fabulous boutique from my first trip back in 2008.
The service and hospitality at Preskil Resort in Mauritius
From the moment we arrived at the resort, we were greeted by friendly staff, offering their assistance in their dedicated departments and assuring us of their commitment to ensuring we enjoyed our stay. We received an in-room phone call from the front desk every third day to ensure everything was according to our standards.
What are the dining options like at Preskil Resort and Spa?
The resort has three restaurants: Rendez-Vous, 1810 and Mosaic. Rendez-Vous is the main restaurant offering breakfast, lunch, and dinner buffet-style. This was my favourite restaurant because it had different themes each evening, allowing me to savour classic dishes (they make the best pizzas) and other unique distinct flavours from the island and adjoining countries. Although the food displays were ordinary compared to other resorts on the island, the dishes were always fresh and tasty.  
The al la carte beach restaurant, 1810, required special booking and had a dinner supplement for half-board stays. Although it states that it is primarily a seafood restaurant, it had many classic dishes on the menu. The restaurant has exquisite evening views, but it was a bit too quiet for our liking.
Mosaic, the al la carte Mediterranean restaurant, also had a partial supplement and is extremely popular with guests. It is located directly next to the Rendez-Vous restaurant. Some outside tables had lovely ocean views.
Overall experience of the food
The quality and variety of the food were good, and the service was attentive. Even though we stayed for a week, there was sufficient variety in the restaurants, including tasty dishes featuring many local and international dishes.
Upgrade from a standard room to a junior suite if it is in your budget. If you are meticulous, ask for room 4138, apparently the best suite in the resort.
It is worth noting that some less pricey hotels in Mauritius have a road between the property and the beach (not the case at Preskil). This is often not disclosed in the description of the hotel.
Traffic is problematic on the island and must be considered we you select a resort further away from the airport.
The South Coast is the best place to visit if you want to get off the beaten track. It is more rugged than the rest of the island, with towering cliffs. According to the locals, the South represents the wild and authentic side of the island. 
What we missed at the Preskil Resort and Spa in Mauritius
Signature well-presented cocktails
Evening beach entertainment, such as Sega dancers.
More island music during the day next to the pool and at the beach.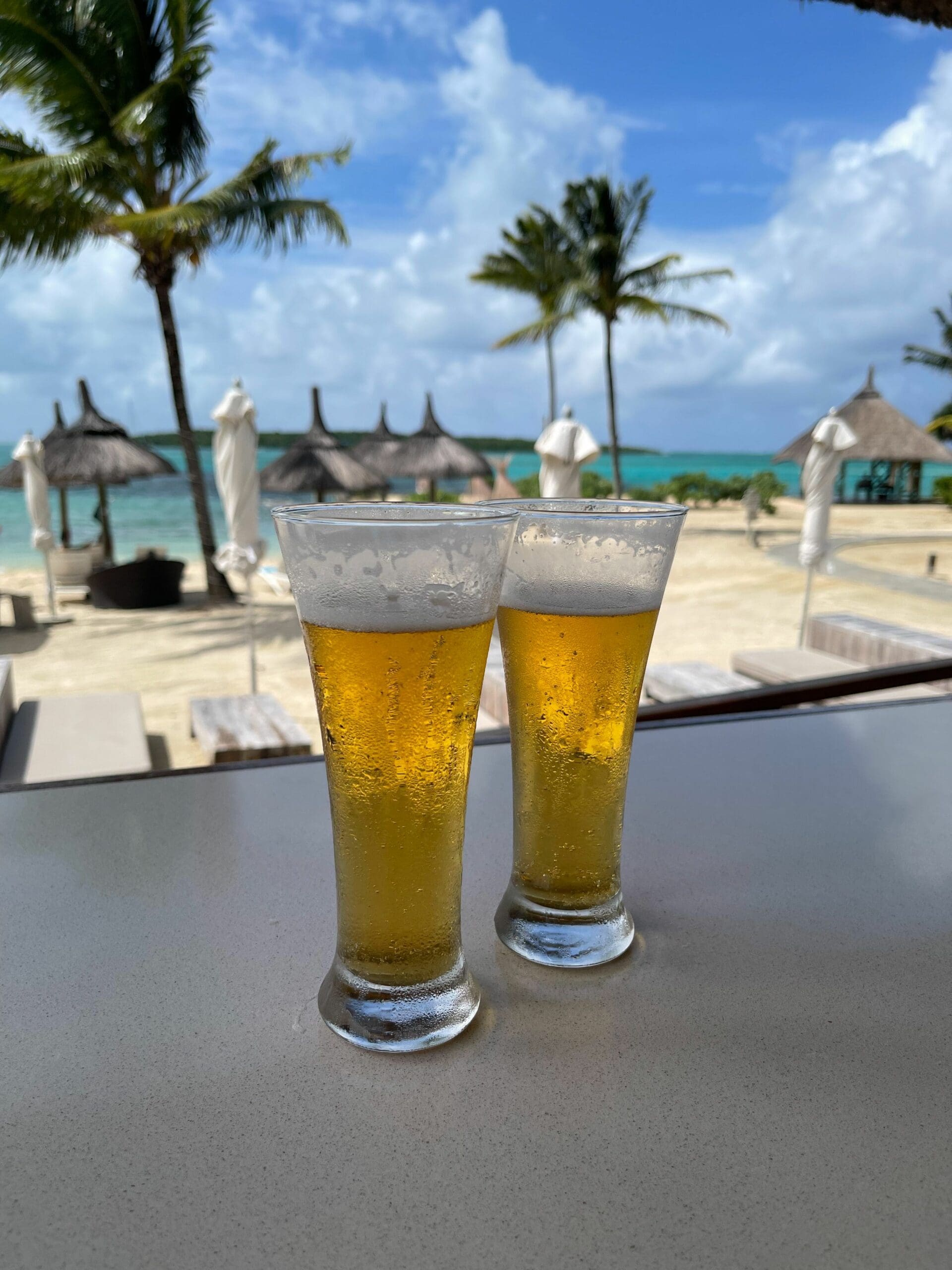 Our verdict about Preskil island resort and spa
This review was intended to assist you in planning a trip to Preskil Resort, Mauritius. I enjoyed this hotel for its huge, airy suites, free water sports activities, and numerous dining options. If this is within your budget, I highly recommend upgrading to an ocean-view junior suite.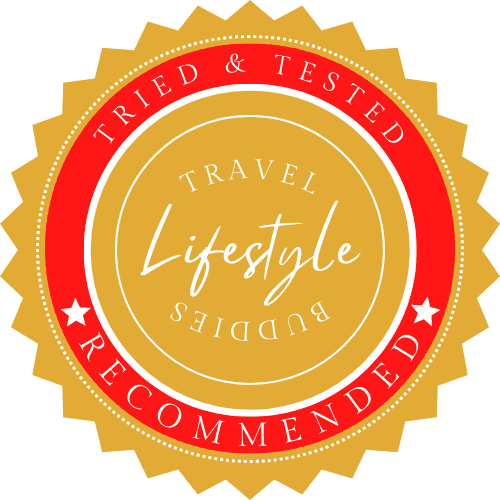 Large, airy suites
Rooms have fabulous ocean views
Great location near the airport
Many free water sports activities
Close to some of the best attractions in Mauritius
Blue Bay Marine Park, 3 km
Mahebourg Waterfront, 3 km
Tamarind Waterfalls, 37 km
Chamarel Waterfall, Coloured Earth and Curious Corner (Highly recommended day excursion) 50 km
This resort offers great value for money. We recommend the half-board option if you enjoy venturing out of the resort. Alcoholic beverages are expensive, but this is standard for all resorts in Mauritius.

Our reviews are a true reflection of our experiences during our stay at the resort. This means we comply with strong ethical practices to ensure our reviews are fair and trustworthy. We only do reviews of hotels that we have personally visited.
SUBSCRIBE to be first!
Subscribe to our blog to be notified of EXCLUSIVE deals from hotels, lodges, vendors, etc. limited to our followers. No SPAM!